AN EXCLUSIVE LONDON-ONLY OFFER FOR YOU
We've been brewing our beer in SE16 since 2013. It's our home. We love London and we're proud to be here.
So we'd like to give something back to not only those customers pouring our beer, but to those more needy than ourselves. Why not get involved to land yourself some free beer whilst helping raise money for a very worthy cause?
ENJOY THE FOLLOWING BENEFITS:
For every new London based trade customer you will receive 1 X FREE 30 LITRE KEG PER MONTH FOR FOUR MONTHS*. That should help keep the taps flowing.
We'll also send you a free 24x CASE OF FOURPURE BEERS, monthly, for free. So you can try the entire range.
Each month you will be entered into A MONTHLY PRIZE DRAW for a chance to win a £100 BAR TAB at our Taproom in Bermondsey
Oh, and we'll kit out your TEAM AND BAR with T-SHIRTS, BAR RUNNERS AND PINT GLASSES.
Then for every keg sold, the SOUTHWARK FOODBANK RECEIVES A DONATION.
So why not be a part of the action and get in touch to talk about your venue?
Sign Up Here
Pop your details into the form and we'll contact you back shortly.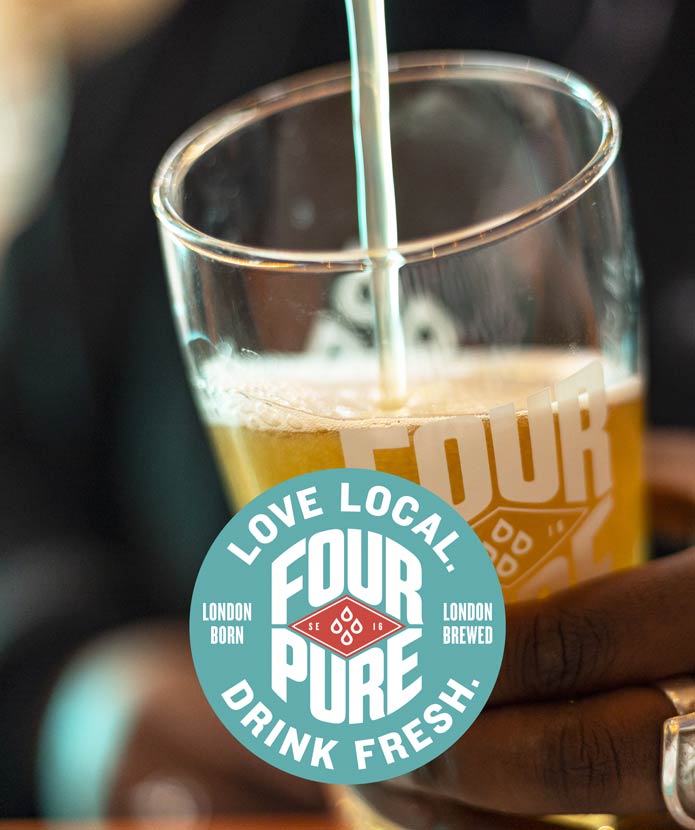 *Terms and COnditions
• Minimum ROS 1 x 30 litre per week
• New customers only – non-traders for 6 months or more also qualify
• 1 x free 30 litre keg per month for four months (per 12 month contract - 24 month deal is 1 free per month for four months again on anniversary)