Fourpure x Friday Night Lights - Winter Festival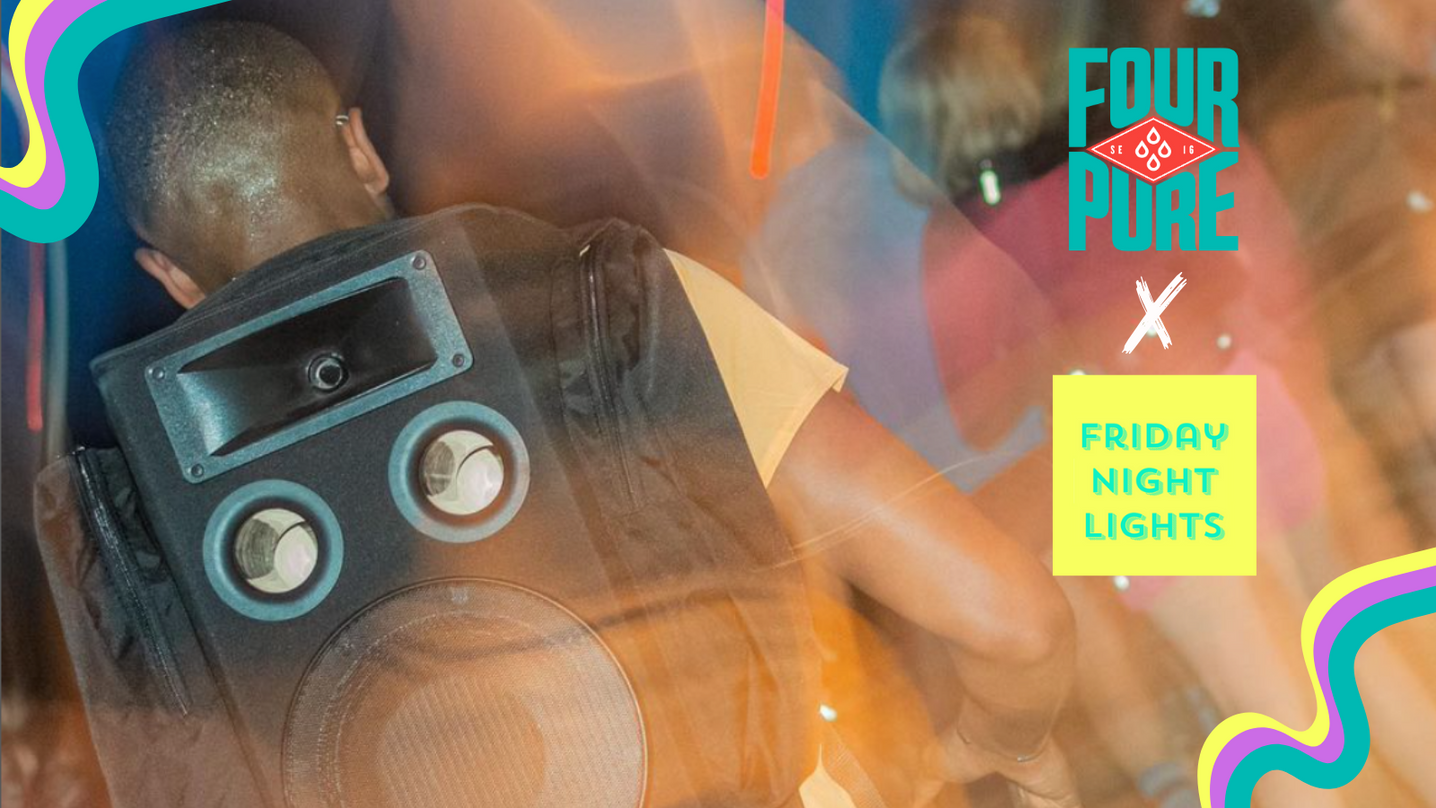 Date:  24 Nov, 18:00 – 22:00
Venue: Fourpure Taproom
Times:  18:00 – 22:00
Tickets here: https://www.fridaynightlights.run/event-details-registration/fnl-soundtrack-series-winter-festival
About the event:
London's healthiest and only guilt free night out bringing the first of our XL SoundTrack Series to South East London. With space for up to 350 people, Fourpure Brewing & FNL have created a one-of-a-kind running experience that brings together the best of FNL with an incredible venue complete with a fully stocked bar from an independent brewer, arcade games, food vendors, and much much more!

Don't get it twisted. It's not a race. Friday Night Lights aren't a club. We're just running. For fun. Don't mistake that vibe.
The Finer Details:
Meeting at Fourpure from 6pm, we'll shuffle of to Southwark Track and throw our own SoundTrack knees-up for series finale before heading back to the Taproom! This extended 4hr FNL will finish at 10pm and will cap of our first 5 months before heading into the the Christmas cool-down.

The Vibe Merchants will be lapping for 45mins at our regular 6:00min KM pace. There is total flexibility on how fast/slow you run, with the Party Group moving in 400m laps continuously for 45mins you can pick when and how you join in.

Fancy some fast laps? Go for it. Wanna take more chilled laps? Go for it. Need a rest? Go for it. We'll be rolling laps of 400m track for 45 minutes just join in and out the group as it comes back around the next lap!

Bring your friends, embrace the excitement, and lets change how we run.
Whats included?
A pre-run TENZING; a post-run 0% Beer; Track Entry for SoundTrack Series; Venue Entry at Fourpure Brewhouse

🌃 Event Highlights 🌃

🍺 A post run 0% Beer: Gifting every runner a complimentary 'Big Drop' drink upon arrival back to the venue post run!

🥤TENZING: Certified B-corp and worlds first carbon negative energy drink TENZING will be dishing out their low calorie, plant-based, healthy alternative to traditional energy drinks for FNL to enjoy before the run!

🪩Live DJ: "The party don't start till I walk in", Kesha was damn right! Once we arrive back into the Taproom we'll be saluting our DJ's on the top floor who'll play 'til close. Dusty bangers on full force.

🍎 Food Vendors: Enjoy some of our favourite food stalls who'll be on site to keep everyone fed after the run and well into the night!

🎊 Post-Run Pints: It only starts at the finish line! Head back to the Taproom and enjoy the rest of your night at the incredible venue complete with food vendors, bars, and an arcade to boot! Don't wanna drink? Grab a 0%. We support that - no pressure at FNL to drink if you don't want to. We got you.

🏃 Spectacular Night Run: Experience the city's vibrant energy like never before as you race through the streets under the sparkling night sky. Feel the energy as you join a community of runners on this run!

🎵 PartyBag Speaker System: Strapped to the backs of of the FNL Team, our speaker systems will have you stepping it to Fright Night Light favouritesas we work our way around London. Let the music push you forward, and propel each stride as you conquer your kilometres. A perfect blend of rhythm and running.

Extras: Unattended Bag Drop (leave at your own risk), Changing Facilities, Accessible Toilets, Parking.