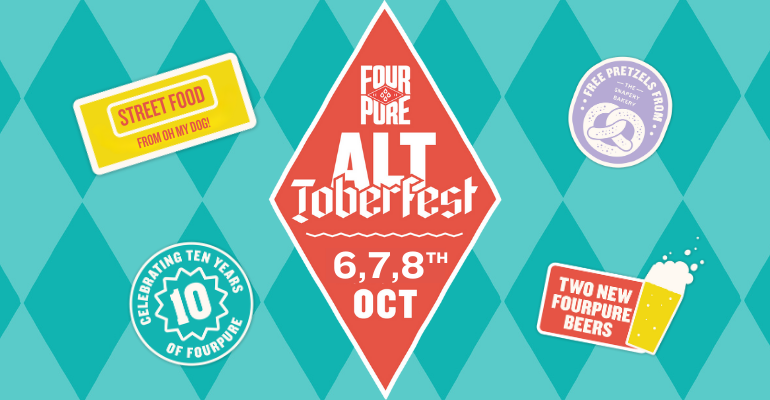 Ticket - Free Entry
Dates - 6th & 7th October
Times - Evening (6:30pm-11:30pm)


 
Mark your calendars for ALToberfest at Fourpure Taproom - South East London's only alternative Oktoberfest. We're excited to bring traditional Bavarian festivities with a modern twist, creating an unforgettable experience in our Bermondsey taproom. Join us for lively oompah beats, delicious Germanic cuisine, and friendly festival-goers. Plus, you'll have the chance to taste three exclusive, freshly brewed beers!
10th Anniversary
This year's ALToberfest holds a special place in our hearts as we mark a decade of brewing excellence. Yes, you heard it right, Fourpure Brewing Co. has been serving up craft beer goodness for ten incredible years. What better way to celebrate this milestone than with a one-of-a-kind Oktoberfest experience?
The ALToberfest Experience
So, what can you expect when you step through the doors of Fourpure Taproom during ALToberfest? What to expect:
🍻 Three New Beers
We're showcasing three brand new beers for you to enjoy exclusive at ALToberfest!
🪗 Lively Oompah Beats
Feel the rhythm, dance to the oompah beats, and soak up the lively atmosphere with our live music.
🌭 Street Food from Oh My Dog!
It wouldn't be an Oktoberfest celebration without a great food, and we have the best in London from Oh My Dog!.  
6. Pretzels Galore
What's Oktoberfest without pretzels? We've got you covered with a generous supply of these delicious treats to keep your energy up from The Snapery Bakery.
ALToberfest is not your typical Oktoberfest celebration; it's a fusion of tradition and modernity that promises unforgettable moments, great beers, and a fantastic time with friends. It's an opportunity to commemorate a decade of brewing excellence and raise a toast to many more years of crafting exceptional beer.
So, whether you're a seasoned Oktoberfest enthusiast or just looking for a fun day out with friends, make sure to mark your calendars for ALToberfest at Fourpure Taproom. Join us in celebrating a decade of brewing innovation, and let's make this ALToberfest one for the books. We can't wait to share the festivities with you. Prost! 🍻🎉